77 el Deora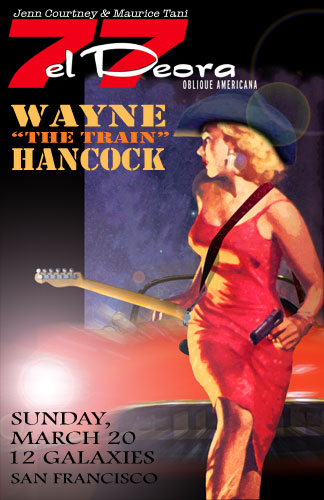 Late Breaking News here by The Door is that modern Country/Rockabilly outfit
77 el Deora
have got their CD "Sirens" shipping anywhere you want.
I first heard
My Old Address Book
(it's got that stressed look), from Keith (who slaps the bass) over at
Rockabilly Bass.com
and have been hoping for the CD to be ready for weeks. This version of Address Book is a minute and a half sample, and you can hear samples of the rest of the album over on their music page. Check out their Shows page, too, for some eyecatching poster art. They have a great beat, driven by Keith Bahjat's Upright Bass and Maurice Tani's Telecaster, topped off with Fiddle and Drums. But it will be Jenn Courtney that turns your head. What a Voice ... don't take my word for it, though.
Through The Door you go ...
Update: 77 el Deora have a
MySpace page
not for the faint hearted or those with bandwidth issues (I'm darn tired of dial-up) if God had meant us to wait around for hours He would have given us Patience. The rest of you have a Ball, y'hear.
Update on the update: ya four cool songs up on MySpace, including the awesome 'Address Book', thanks to my friendly neighbourhood Internet Bar.